Your Home
Is Our
Priority
Welcome to Priority Mortgage Tampa Bay's best mortgage company specializing in residential home loans. We have helped thousands of homeowners finance the dream of home ownership. Our dedication and expertise will help guide you through the homebuying process from Pre-Approval to Closing, while providing you with the best rates and terms available.
Whether you are buying your first home, investment property, second home or building the home of your dreams, Priority Mortgage will empower you with confidence, knowledge and expertise from loan application through closing, we are by your side throughout the entire process.
No matter what your circumstances or needs may be, we have the mortgage program that will put you in your new home. Find out why we have become Tampa Bay's premier mortgage company.
The First Step In The Home Buying Process Is Getting PRE- APPROVED!
The 2 most important questions you need to ask yourself when purchasing your new home!
1. How much "house" can I afford? 
The first step in the home buying process is to determine how much you want to pay each month for a mortgage payment that fits within your budget. At Priority Mortgage, our caring loan specialist will take the time to analyze your overall situation and help you determine what that amount should be.

This payment that you both agree upon will let your specialist compute the correct sales price and the price range you should focus your attention on.

2. How do I get Pre-Approved?
The second step in the home buying process is basically a continuation of step 1, Your loan specialist will analyze and review your overall credit history and credit scores as well as your monthly income to make sure you qualify for a mortgage.

If you are working with a real estate agent, getting a Pre-Approved letter from a lender lets them know you are a serious buyer.

Keep in mind, that all offers by a real estate agent must be accompanied by a Pre-Approval letter by a credible lender.
Priority Mortgage will supply you with a Free Pre-Approval letter after your first call.
To start your road to homeownership simply enter your information in the box above and your personal loan specialist will contact you right away!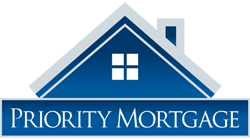 Please input your information here for your quick Pre-Approval response.
The Mortgage Company Tampa Bay Residents Can Rely On
Loan Types

Our complete list of loans along with their detailed description will help you decide which loan is best for you.
Calculators

We have put together some Mortgage Calculators to help make sense of the numbers. They are all easy and fun to use.
Questions & Answers

Here we tried to answer the most important questions you may have. For more answers to any questions please call 800-822-4645
---
Purchasing A Home Is Very Exciting, But Can Be Very Confusing At Times. Being Well Prepared By The Best Mortgage Company In Tampa Bay Will Allow You To Make Better Decisions.
---
Changing The Terms Of Your Loan Can Benefit You And Maximize Your Monthly Income. Call The Best Mortgage Refinance Company In Tampa Bay, You'll Be Glad You Did.
What Our Clients
Say About Us

I just wanted to thank you for continually following up with me. The last time I refinanced, my mortgage it seemed as if I always had to follow up with the mortgage company. You are the best mortgage lender in Tampa Bay, period! Thanks for staying on top of everything and keeping things moving forward.


John S.


Your company was so much more professional than the last mortgage company I used. Every question I asked was answered honestly and accurately. In our minds, you are the best mortgage firm in Tampa. I would recommend your company to anyone.


Mary & Tom R.


Your company was so much more professional than the last mortgage company I used. Every question I asked was answered honestly and accurately. I would recommend you to anyone.


Robert M.
Frequently Asked Questions